SHIN KANEMITSU
Designer
Japanese ★★★☆☆ English  ★☆☆☆☆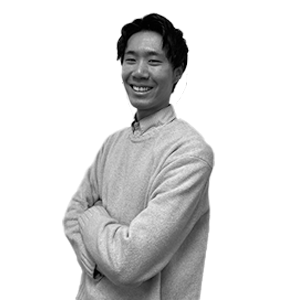 Born and raised in Hiroshima, moved to Kobe for college.
In my previous job, I was involved in sales operations in the transportation industry and had been committed to customer-friendly sales.

During the job interview, my brain was stimulated by the president, work environment, and the worthwhile tasks.
So I decided to take the plunge and joined the company.
In this industry where trends change rapidly, I spend days learning to keep up.
I hope to be able to propose different kinds of opinion to our clients by utilizing my cooperativeness, which is one of my strengths.

I would like to say that my hobbies are reading, exercising, and camping on my days off.
…I'm joking.
Actually I'm into watching football games, going out to town, cooking…are these hobbies?
I am looking for a hobby that I can get passionate about.

I have been playing golf for about 3 years. I only go to a driving range about twice a year, and my driver slice has not been fixed.
Can anyone please teach me how to play golf ?